December 1, 2020 | Cabernet Sauvignon, Club Member, Flambeaux Wine Club | Murray Family
Holiday Club Shipment: Raising a Glass to the Coming Year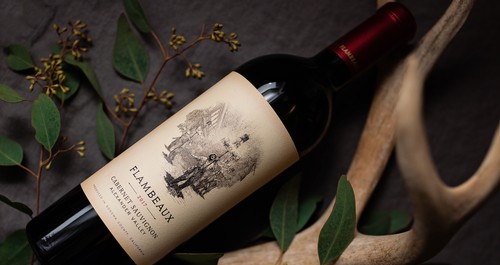 Dear Club Members,
This time of year is very peaceful here in Healdsburg. The vineyard has turned all colors of browns, reds, and yellows; the new vintage is mostly resting in barrel and tank, and we are enjoying the holiday season. It is a time we like to reflect on what makes us grateful.
What has made us especially grateful this year has been the fun we've had with you, our club members, both virtually and in person. Your enthusiasm for our wines and support of our "little engine that could" wine label has made 2020 much, much better for our family and staff. We hope we've made this year a little more fun for you too.
As one of the many perks of your club membership, we are delighted to introduce you to our latest vintages before their release to the general public. For this Club shipment, we are recommending our 2018 Flambeaux Dry Creek Valley Zinfandel and our 2018 Flambeaux Sonoma Coast Chardonnay. 2018 was a really good year, with decent rains in the winter and spring, giving the vines some relief after the couple of dry years that preceded it. The weather was a return to California's normal, with bloom, veraison, and harvest all on time and without incident. The winesreflect this consistency with pronounced varietal character in the aromas and flavors. The 2018 Zinfandel has the deep, rich blackberry and dark cherry notes you liked on the 2017 Zinfandel (which has now been moved to the club library), and the 2018 Chardonnay is tasting crisp with notes of tart green apple, ripe pear, and a hint of butterscotch. Both will mature gracefully for several years … assuming you can wait.
For our Founders Club members, we are recommending the newest Cabernet Sauvignon in our portfolio, the inaugural 2017 Flambeaux Alexander Valley Cabernet Sauvignon. This pre-release will become a staple of our wines, alongside the estate vineyard Dry Creek Valley Cabernet Sauvignon. We have teamed up with Toby Lane Vineyards in the Chalk Hill region of Alexander Valley, which produces stunning Cabernet Sauvignon grapes. The 2017 has impressions of black plum, blackberry, and dark cherry, accompanied by notes of black tea, hickory, and mocha. This wine is excellent now but will age beautifully for many, many years to come.
Turning to everyone's favorite surprise – the lagniappe – this one will certainly not disappoint. Allow us to introduce you to one of the most talented chocolatiers we've ever met, and he just happens to be here in Healdsburg. Chef Robert "Buttercup" Nieto, a familiar face on Food Network and the owner of Fleur Sauvage Chocolates, crafts amazing chocolates that we are, frankly, addicted to. We cannot think of anything more "holiday" than festive truffles, especially when paired with our 2018 Dry Creek Valley Zinfandel and 2017 Alexander Valley Cabernet Sauvignon (and yes, Chef Buttercup specially made these chocolates for pairing with our wines). Enjoy!
As we say goodbye to one of the most trying years we've ever known, let us all raise a glass to the coming year with renewed hope for peaceful and prosperous times. Happy Holidays! Stay safe, stay well, and stay connected!
Cheers,
Art Murray
… on behalf of the Murray Family
Comments
Commenting has been turned off.