February 19, 2021 | 2020, Dry Creek Valley, SommTV, Sonoma County, Sonoma Valley, Virtual Tastings, Zinfandel | Murray Family
Flambeaux Featured on New SommTV Docuseries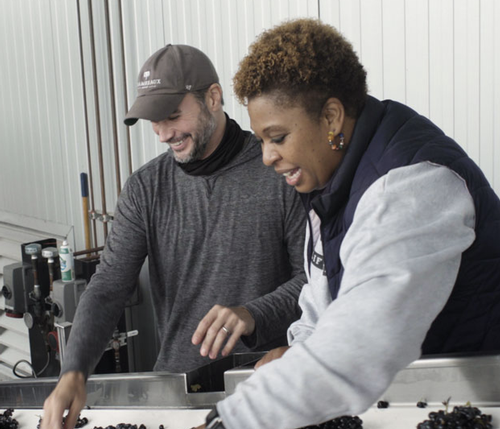 Flambeaux Wine is the featured winery in the first episode of the new docuseries CRUSH which premiered on SOMM TV December 18, 2020. Owner and Vintner Art Murray, along with our Winemaker Ryan Prichard, share the experience of the 2020 grape harvest with New York-based sommelier Shakera Jones who hosts the television show.
In the episode, all three generations of our family pick grapes along with Shakera in the Flambeaux Estate Vineyard, before we move to the Grand Cru Custom Crush winemaking facility to sort and press the grapes that were picked on a single day in September 2020. To get a feel for what it is like to harvest, crush and begin the winemaking process at Flambeaux, tune in!
"Our family had a blast sharing the winemaking experience with the CRUSH crew, which will in turn share it with so many viewers eager to learn about wine on SOMM TV," said Art Murray, "Shakera is a great host and wine taster with amazing energy. I believe that audiences will enjoy coming along with us, and learning about our attention to detail in making Flambeaux's world-class wines."
CRUSH is an original SOMM TV series written and directed by Christina Wise, produced by Diane Carpenter who is also a co-founder of Forgotten Man Films and hosted by sommelier Shakera Jones.
To watch the show, SOMM TV is a subscription, streaming platform (similar to Netflix) available on every device and smart TV worldwide through a custom app and website, and the free podcasts can be found on all major platforms including iTunes and Spotify. SOMM TV is widely accessible and affordable, and to save even more use the promo code CRUSH. Check it out and tell us what you think!
PREORDER NOW
#Flambeaux #FlambeauxWine #Cabernet #DryCreekValley #SonomaWine #Wine #Winery #Healdsburg #CabernetSauvignon #CRUSH #SOMMTV #Sonoma #Healdsburg
Comments
Commenting has been turned off.