June 7, 2021 | Bay Area Outings, Food and Wine, Sonoma County, Taste with Us | Murray Family
Discover Flambeaux at Region in Sebastopol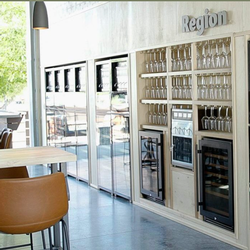 Make plans to visit The Barlow, Sonoma County's hip food and wine destination, located in the charming town of Sebastopol. While meandering around the site, which includes restaurants, shops, micro-breweries, and more, seek sips of Flambeaux wine at Region www.drinkyourregion.com.
Founded last year, Region is a space as unique and diverse as Sonoma County, showcasing local wines from 14 Sonoma appellations made by 25 Wineries. At any given time, there are more than 50 wines available to experience by the taste, by the glass, or by the bottle.
The clean, urban-in-a-rustic setting of Region creates an ideal spot for experiencing a wide array of interesting wines. In one room all 50 wines can be sampled from self-serve machines that offer three differently-sized pours. Seating is available both inside and outside the venue. Region abides by all local, county and state COVID-19 regulations for social distancing, masks and capacity levels.
An adjacent room is focused upon a more traditional wine-tasting bar, with samples hand-poured by the Region staff or often winemakers themselves! Flambeaux is the featured winery for a full week, twice each year. So watch for upcoming special Events that Flambeaux will host each Fall and Spring at Region in The Barlow. For more information about Region click here.
Comments
Commenting has been turned off.