February 14, 2022 | Cabernet Sauvignon, Mardi Gras, Taste with Us, Zinfandel | Murray Family
Letter & Lagniappe: Spring 2022 Release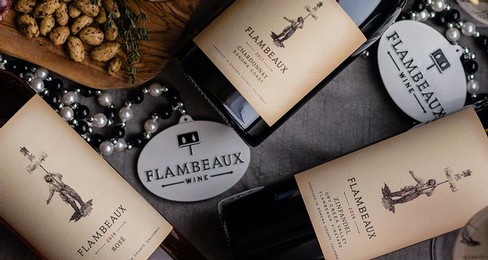 Dear Club Member,
This Valentine's Day we hope you feel our gratitude and yes, love, for you and all our Club Members! We appreciate that you appreciate the love and care we put into our grapes and our wines. We love what we do, and love that you love it too. So, what says "romance" to us wine lovers more than a glass of great Cabernet Sauvignon shared together? How about two? In this shipment we offer a mini vertical of our Alexander Valley Cabernet Sauvignon.
Our inaugural Flambeaux 2017 Alexander Valley Cabernet Sauvignon debuted last year. 2017 was an excellent vintage in the region, and the Toby Lane Vineyard is ideally situated to showcase the attributes we expect from Alexander Valley: dark berries and plum, notes of dried herbs, and nicely balanced for enjoyment on release or to age gracefully for a decade or more. Now approaching five years of age, the 2017 is really opening up and displaying a range of those dark fruits such as blackberries, dark plums, and even some blueberry with a medley of supporting impressions of dried sage, thyme, mocha, black tea, and baking spices. We expect this to further evolve over the next five years!
For the second glass, the best way to experience this vineyard is with the follow-up vintage! Comparing our
Flambeaux 2018 Alexander Valley Cabernet Sauvignon with the previous vintage is fascinating. In 2017 we had excellent rainfall, a temperate spring, and then some hot weeks that accelerated the grape growing for an early harvest. In 2018 we again had good rainfall, good spring weather, but a cooler summer, so harvest was at a normal time of the year and had great yields. Also considered exceptional, this vintage displays more pronounced dark plum fruit with more subtle blackberry impressions, and nuances of sweet spices, fresh tobacco, and vanilla. It is clearly younger, not as open, and with the finish a little more full like strongly brewed black tea. At four years of age, it should have a long life ahead. Both wines are classic Alexander Valley Cabernet Sauvignons!
Maybe a third glass is warranted? For our Founders Members we are recommending our latest Flambeaux 2019 Dry Creek Valley Zinfandel. To continue the vintage lesson, 2019 was yet another very good growing year. The last of the pre-drought years, it had good rainfall, a cool spring, a cool-ish summer, and a warm fall that ripened the grapes for harvest at the usual time of the year. That cooler growing season produced deep, intense blackberry, marionberry, and blueberry fruit tones with touches of rich mocha, dark chocolate, and black tea on the finish. Our Zinfandel is always a more "elegant" style than the typical Dry Creek Valley Zinfandel due to the mountainside vineyard promoting the darker fruit more than the red berry and brambly flavors found in the valley floor vineyards.
Also close to our hearts is this special time of year in New Orleans ... Mardi Gras! The biggest party in North
America is a time of joy and a celebration of springtime. The big day is March 1, but everyone starts the merriments well in advance. Our lagniappe this shipment is a special edition of Flambeaux Mardi Gras cocktail napkins for your festivities (or your mini vertical tasting). Put zydeco on, cook up some gumbo, pour the wine, and order the King Cake for dessert!
Laissez les bons temps rouler, mon amis!
Art Murray
... on behalf of the Murray Family
Comments
Commenting has been turned off.