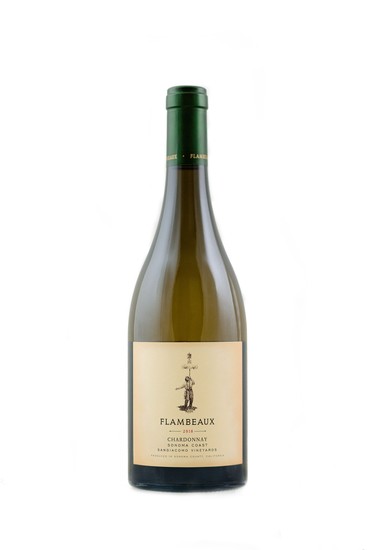 Wine Specs
Harvest Date
September 10 and 29, 2018
Titratable Acidity
6.25 g/L
Aging
Aged 11 months in 100% French oak barrels: 30% new oak, 70% neutral barrels
Fermentation
Fermented in barrel using native yeasts
Bottling Date
July 15, 2019
2018 Chardonnay Sonoma Coast
Perfect Pairing: fresh Dungeness crab or jambalaya
Richly perfumed with some back-end zip. Waves of Bartlett pear, lemon, and honeysuckle sparkle with mineral and lime, while oak adds soft notes of butterscotch.
Wine Profile
Tasting Notes
The 2018 Flambeaux Sonoma Coast Chardonnay expresses a wonderful balance of rich, ripe fruit with a hint of minerality. Hints of butterscotch crème brûlée lend a gentle frame to pear, honeysuckle, and lemon curd with a pleasing tang of clean slate. The long, nuanced finish invites more sips.
Vineyard Profile
The 2018 Flambeaux Sonoma Coast Chardonnay comes from two world-class vineyards owned by the Sangiacomo family, one of Sonoma County's original—and leading—grape-growing families. Located near the Petaluma Gap, the Roberts Road Vineyard is characterized by cool temperatures and coastal fogs. The block is planted with the Dijon clone 95, a variety ideally suited for even the coolest climates and which adds a sparkling minerality and a green apple component to the blend. The Kiser Vineyard is situated farther inland in southwestern Sonoma and is planted with the Wente clone, a cultivar that contributes bright acidity balanced with the concentrated and weighty stone fruit flavors.
Production Notes
We picked the grapes at night, bringing them to the winery early in the morning to ensure that the fruit remained cold-stable. The whole clusters were gently pressed directly into barrels, allowing native yeasts—yeast already present on the grapes' skin—to naturally begin fermentation. The barrels were kept open-top, which allowed the juice to brown and drop out any unstable pigments. After this primary, oxidative fermentation, a method that lends itself to rich and smooth wine style, the wine underwent malolactic fermentation, a secondary process in which tart malic acid is converted to creamy lactic acid. In January 2018, we blended the wine, then aged it for 11 months in a combination of 30% new French oak and 70% neutral French oak barrels.
Winemaker Notes
2018 was a cooler year so we ended up picking most all of our fruit later than normal. This allows longer time on the vine, which extends out the amount of time the vine can ripen and develop the Roberts Road's signature bright minerality and the Kiser vineyard's concentrated lemondrop goodness. Together they marry into a deep and complex Chardonnay that hits some high notes as well. – Winemaker Ryan Prichard
Food Pairing
Try with: fresh seafood (oysters, crab and lobster and halibut or sole), delicate pastas, cream-based dishes, and jambalaya.
About Flambeaux Wine
Flambeaux are the dancing torchbearers of Carnival night parades. A quintessential symbol of New Orleans Mardi Gras tradition, Flambeaux represent all that we love best about wine—light flickering in a glass, complex flavors dancing across the palate, and a celebration of life.
Wine Specs
Harvest Date
September 10 and 29, 2018
Titratable Acidity
6.25 g/L
Aging
Aged 11 months in 100% French oak barrels: 30% new oak, 70% neutral barrels
Fermentation
Fermented in barrel using native yeasts
Bottling Date
July 15, 2019
Related Wines