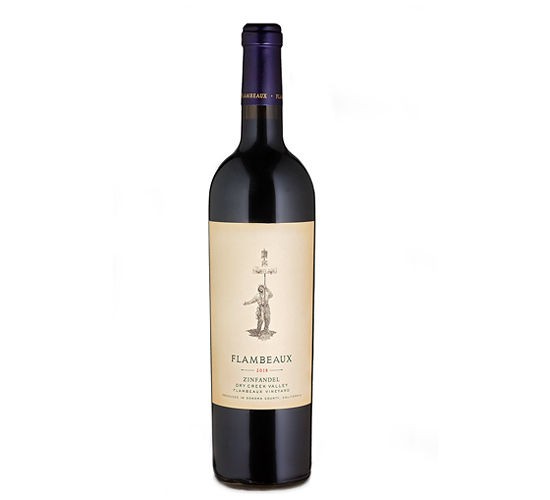 Wine Specs
Appellation
Dry Creek Valley
Vineyard Designation
Flambeaux Estate
Harvest Date
September 14, 2018
Titratable Acidity
6.13 g/L
Aging
Aged in 69% French and 31% American oak–25% total new oak–for 11 months
Fermentation
Fermented in small, open-top stainless steel tanks with gentle, twice-daily punchdowns over a period of two weeks
Bottling Date
July 15, 2019
2018 Flambeaux Dry Creek Valley Zinfandel
Founders Members Only - Library Collection
Wine Profile
Tasting Notes
The 2018 Flambeaux Dry Creek Valley Zinfandel has notes of boysenberry pie a la mode, some hints of dried herb and graham cracker. Tannins are velvety and the little pop of milk chocolate and cranberry on the finish leaves a mouthwatering impression.
Vineyard Profile
The Flambeaux Vineyard in Dry Creek Valley is located in the sweet spot for vineyard elevation – about 350 feet above the valley floor. The soils are the Boomer Loam series, a Metamorphic soil characterized in the Dry Creek area by crumbly red, iron-rich soils. The Zinfandel is grown in terraced rows in the steep hillside that helps drain away both excess water and also cold air, naturally aiding in keeping the vineyard safe from frost. The hillside's thinner soils helps to regulate the sometimes abundantly growing Zinfandel, providing us fruit that is concentrated and full of a natural density.
Production Notes
Picked before dawn, the grapes arrived at the winery cold and were hand-sorted and destemmed in open-top stainless steel tanks. After a short cold soak, the wines fermented over a two week period in tank with punchdowns utilized to gently integrate the skins with the fermenting juice. Once fully fermented, the wine was pressed off the skins and put into barrel where it spent its life until just before bottling where it was blended and bottled in August.
Winemaker Notes
2018 was a year where overall, yields were up across Sonoma County. This means that per acre of grapes, we were seeing more fruit than usual: which called for careful culling out in the vineyard by dropping some of the excess fruit on the ground after the berries have set. This can be a hard thing to do but when the ultimate goal is making the best wine possible, you'll sacrifice quantity for quality any day. This was the case in 2018 with the Flambeaux Dry Creek Zinfandel, and we are really happy with the results. – Winemaker Ryan Prichard
Food Pairing
Pick a dish and the Zinfandel will be a great partner. We've been fond of it with a hearty Gumbo.
About Flambeaux Wine
Flambeaux are the dancing torchbearers of Carnival night parades. A quintessential symbol of New Orleans Mardi Gras tradition, Flambeaux represent all that we love best about wine—light flickering in a glass, complex flavors dancing across the palate, and a celebration of life.
Wine Specs
Appellation
Dry Creek Valley
Vineyard Designation
Flambeaux Estate
Harvest Date
September 14, 2018
Titratable Acidity
6.13 g/L
Aging
Aged in 69% French and 31% American oak–25% total new oak–for 11 months
Fermentation
Fermented in small, open-top stainless steel tanks with gentle, twice-daily punchdowns over a period of two weeks
Bottling Date
July 15, 2019
Related Wines