February 1, 2021 | 2017, 2019, Cabernet Sauvignon, Club Member, Dry Creek Valley, Estate, Flambeaux Wine Club, Mardi Gras, New Orleans, Reserve, Rosé, Sonoma County | Murray Family
The Spirit of Celebration Endures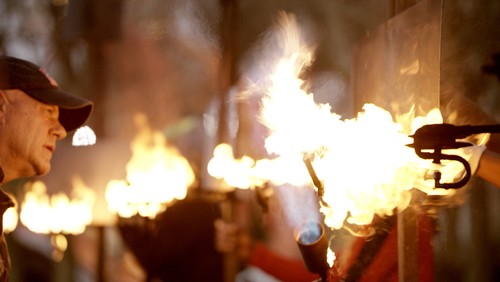 Dear Club Members,
A new year ushers in new wines…and new hope! With the promise of an end to the pandemic, we so look forward to dining out, going to concerts, seeing a movie, and hosting tastings here in California and at events elsewhere.
Nothing speaks of good times ahead more than Mardi Gras in New Orleans, and this year is no exception. Despite the fact that the parades are not rolling, New Orleanians everywhere – from Orleans Parish to Australia – are decorating their homes as Mardi Gras floats. The spirit of celebration clearly endures!
Our Mardi Gras Club shipment is loaded with wines recommended for the upcoming festivities. Included is the debut of our mainstay, the 2017 Flambeaux Dry Creek Valley Cabernet Sauvignon. This lovely wine from our estate vineyard is reminiscent of our inaugural 2014 vintage, with a good concentration of blackberry and black cherry impressions, notes of mocha, dried herbs, and black tea, all adding depth and complexity. While it is delicious to drink now, it will mature extremely well!
People have quickly caught onto the fact that our Rosé works year-round; it pairs as well with gumbo in the winter as with boiled crawfish on a hot spring day. Our recommendation - the 2019 Flambeaux Sonoma County Rosé - has juicy hints of wild strawberry, dried cranberry, and tart lemon. Dry and bold, this is a rosé suitable for a wide range of dishes, from pork to shellfish. We make only two barrels a year, so, don't delay in stocking up for the summer months ahead.
For Founders members we suggest adding our latest flagship, the 2017 Flambeaux Reserve Dry Creek Valley Cabernet Sauvignon. This wine is very much a worthy successor to our inaugural 2016 Flambeaux Reserve, with similar depth and richness. Once again, notes of blackberry, black cherry, and dried herbs are apparent but are filled out with hints of dark plum, coffee, toast, dark chocolate, and black tea. A wine meant for the ages, it is already delicious. We recommend enjoying this Club selection now and ordering your lifetime maximum (six bottles) for cellaring. This will be a spectacular wine after a decade in the cellar. This 2017 Reserve is another two barrel wine (our favorite two); so, don't wait to order. It won't last long.
We know it isn't always possible to drink a whole bottle of wine, and it is, of course, a crime to waste Flambeaux. So, we're offering a solution to this dilemma as your lagniappe this month: the Repour Winesaver. This stopper has an oxygen absorption packet inside that immediately removes the oxygen from an open bottle. You will be able to revisit your wine many days later and have it taste exactly as it should. Maybe now you'll have a little less concern about opening that one extra bottle for your Mardi Gras feast!
Mardi Gras embodies the spirit of celebration. We need this spirit to light our way for the next few months. While we wait – patiently – for normal times to return, we do hope you stay in touch with us online (on our website, Instagram, and Facebook). Send us pictures of your "house float" if you make one and certainly of your Mardi Gras celebrations with Flambeaux! We miss you all and look forward to seeing you again.
Laissez le bon temps rouler!
Art Murray
… on behalf of the Murray Family
Comments
Commenting has been turned off.