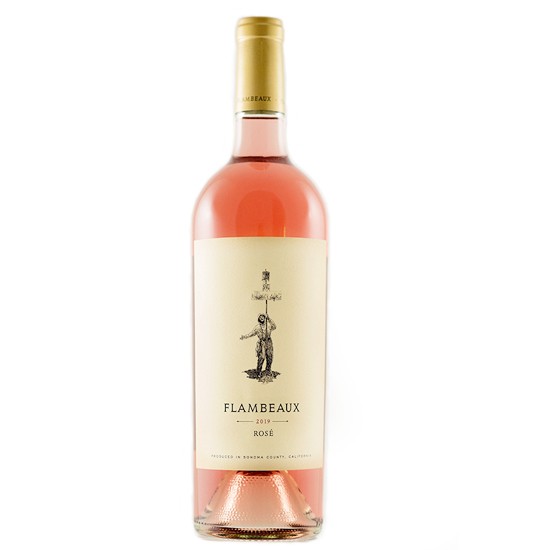 Wine Specs
Appellation
Sonoma County
Harvest Date
October 6–9, 2019
Titratable Acidity
7.31 g/L
Aging
Aged in stainless steel barrels for 3 months.
Fermentation
Cold fermented in small stainless steel tanks and barrels.
Bottling Date
January 23, 2020
2019 Flambeaux Sonoma County Rosé
GOLD 91 POINTS, 2020 Critics Challenge Intl. Wine Comp. - SILVER, Sunset Intl. Wine Competition - 91 POINTS GOLD, 2020 Experience Rosé Wine Comp.
Wine Profile
Tasting Notes
Vibrant and bright, the 2019 Flambeaux Rosé is crafted from a blend of 71% Dry Creek Valley Zinfandel and 29% Alexander Valley Cabernet Sauvignon sourced from spectacular Sonoma County hillside sites. Floral aromatics, a nice juicy core and just a hint of tannin to give the wine some structure make this a wine that is always a favorite for summertime fun.
Awards
SILVER- Sunset International Wine Competition
Vineyard Profile
The grapes for the 2019 Flambeaux Sonoma County Rosé Grapes were night harvested from our estate Flambeaux Vineyard in the steep, iron-rich hills of Dry Creek Valley and Toby Lane Vineyard, high in the hills above Alexander Valley. We love these hillside vineyards as the thinner soils and cooler evening temperatures allow the vines to grow smaller berries with thicker skins, leading to complex and concentrated wines.
Production Notes
Rosé is always a fun wine to make as it is our first wine that we get to put in the bottle and it gives us our first glimpse of how this vintage turned out. 2019 was a long and cool vintage—especially perfect for growing grapes. The early part of the year was punctuated with flooding in Sonoma County but thankfully this didn't impact any vines or winery operations for us. The year progressed with some unseasonably cool August and September, allowing us to slowly and methodically keep tabs on our slowly ripening fruit. It's years like this that winemakers love—not too hot, not too cold, not too wet, and all at the right time.
Winemaker Notes
Taking the more luscious and fruit-forward profile from Zinfandel and adding in the more tannic and structured components from Cabernet Sauvignon builds the Flambeaux Sonoma County Rosé into a classic and fun styling. This combination is what I love about rosé: it doesn't have any pretense but is still a very serious wine. Lively acidity, beautiful strawberry fruit notes, and a bit of back-end structure to balance with light fare ensures it will be a welcome addition to your table.
Food Pairing
Pair the Flambeaux Sonoma County Rosé Pair with spicy Thai shrimp or grilled seabass to provide a nice counterpoint to the dish without overpowering it. The verve of this wine adds a lightness that meshes well with lighter fare.
About Flambeaux Wine
Flambeaux are the dancing torchbearers of Mardi Gras night parades. A quintessential symbol of New Orleans Mardi Gras tradition, Flambeaux represent all that we love best about wine—light flickering in a glass, complex flavors dancing across the palate, and a celebration of life.
Wine Specs
Appellation
Sonoma County
Harvest Date
October 6–9, 2019
Titratable Acidity
7.31 g/L
Aging
Aged in stainless steel barrels for 3 months.
Fermentation
Cold fermented in small stainless steel tanks and barrels.
Bottling Date
January 23, 2020
Related Wines