May 14, 2020 | Murray Family
Spring-Summer Wine Club Shipment Notes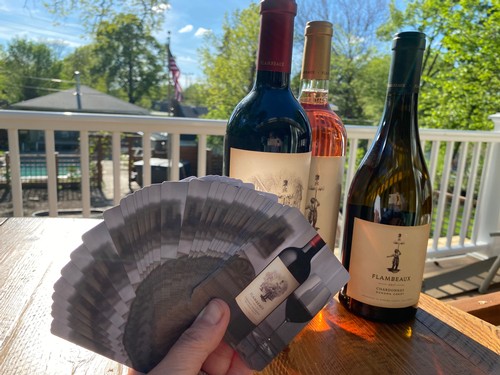 Greetings from the Home Front!
Much has obviously changed since our last Club shipment. We all hope that you, your family, and your loved ones are safe and well in these harrowing times. We've been sheltering at home as many of you have probably seen on our bi-weekly virtual tastings (be sure to follow our Instagram account @Flambeauxwine to watch live; replays are also available on our YouTube channel). If you haven't yet seen one of these tastings, we encourage you to do so. They are virtual happy hours with family and friends, adding in fun guests whenever we can. If there is one benefit to this period it is the time spent with family at home, and with friends digitally.
We've been honored by the outpouring of emails, chats, DMs, pictures, and more sent by all of you enjoying Flambeaux. If our wines make this interlude more bearable (or, hopefully, enjoyable), then we've accomplished our mission. With that in mind, we are offering wines we think you will really enjoy at this time of year. First, as it is all but gone, we are recommending our Flambeaux 2018 Sonoma County Rosé. Here in wine country, spring is in full flower, with warmish days and cool nights. Rosé is ideal for such weather, especially in the early afternoon as the shadows grow longer. Our 2018 is showing an amazing depth of flavor and richness for a Rosé, with notes of wild strawberry, lemon zest, and watermelon. Give it a good chill (but don't drink it too cold).
Our second recommendation happens to be our smallest Cabernet production ever - the Flambeaux 2016 Redwood Hill Vineyard Cabernet Sauvignon. Our remaining supply of this beautiful wine is very low, so we wanted to make sure our Club members keep enjoying it while it lasts (and, as an added treat, we will not count this bottle against your 12 bottle lifetime cap). Since its debut, the flavors of this wine have been slowly unpacking, with blackberry, black cherry, dried sage, and dark chocolate nuances coming out on the nose and palate. While this wine will continue to develop for many years to come, it is delicious right now. Speaking of the Redwood Hill Cabernet, we were very pleased to present our first check to Corazón Healdsburg (www.corazonhealdsburg.org) for their "Unity & Community Fund" that supports families in need from the recent fires. Those families are in even greater need now, and, as you may recall, 10% of the proceeds from the sale of this wine go to Corazón – great wine for a good cause.
As a third wine for our Founders Club members, we are recommending our Flambeaux 2017 Sonoma Coast Chardonnay, a wonderful companion for just about any meal. This wine has gained depth and richness, as the best Chardonnays do. It still has crisp green apple and sweet lemon fruit notes, but pear, apricot, butterscotch, and vanilla cream impressions flower on the finish.
In these insulated days, a simple thing like a deck of cards can creatively fill the time, whether you're playing solo (Solitaire!), playing Crazy Eights with the kids, or enjoying a Zoom poker game with friends around the globe. With this in mind, our gift to you in this shipment is an official pack of Flambeaux Wine playing cards. These and a glass of wine will certainly help you pass the time!
Stay safe, stay well, and stay connected! Cheers,
Art Murray

Comments
Commenting has been turned off.