May 1, 2017 | 2014, Awards, Cabernet Sauvignon, Club Member, Flambeaux Wine Club, Sonoma Valley | Art Murray
Spring Wine Shipment Features Inaugural Flambeaux Olive Oil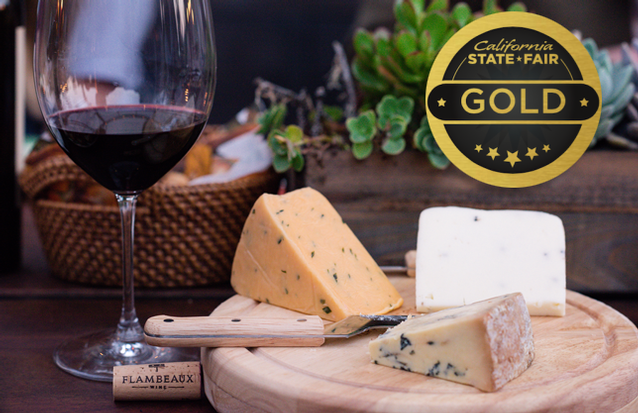 Spring Greetings from Flambeaux Wine!
Our wet winter has alleviated the four-year drought here in Northern California, and from the rains have sprung brilliant, sun-yellow mustard and elegant, white, chamomile flowers throughout our vineyard. The young buds breaking on the vines are stretching out into tender shoots, harkening the coming summer growing season. The turning of each season in the vineyard is so magical and timeless.
The next phases in the vineyard are primarily up to Mother Nature. Flowering and fruit set need dry weather, and from there it is on through summer, needing warm temperatures during the days and cool nights to develop the aromatics, flavors, and acidity in the grapes. With Mother Nature's blessing, we will be coaxing the vines along for another great vintage.
Accompanying your shipment of Flambeaux wines is a small gift to thank you for your support and appreciation of our wines. Last year, we harvested olives from our trees on the property and contracted with a local press to make our inaugural Flambeaux Olive Oil. It has a fresh, almost peppery zing from its youth, with notes of butter, artichoke heart, and fruity cucumber. We find it great for dipping with French baguette bread or fresh cut vegetables, or tossed with a touch of balsamic vinegar on mixed greens or in a Greek salad. Write and let us know what you think of it!
Praise of our 2014 Cabernet Sauvignons continues to pour in from the professional wine-rating community. Both wines received Gold Medals and 95 points (out of 100) from the California State Fair Commercial Wine Competition. This competition is open to all Californian wines; so, you can imagine there were some real heavy weights in there!
Our 2014 Cabernet Sauvignon Sonoma Valley was recently given a stellar review - "Well made cabernet. You could drink everyday and should" – by the judges who awarded it a Gold Medal, 94 points, and "Best of the Best" at the 2017 North Coast Wine Challenge. The competition is for wines from the north Californian AVAs (American Viticultural Areas) which includes Sonoma, Napa, Mendocino, Lake, Marin, and Solano Counties.
We hope you enjoy your selection of wines, and remember more is available online whenever you need it (and will, as always, include your club discount). Visit us on Facebook, Instagram, and Twitter to keep up with our latest news, and you can always send us an email, message, or tweet! We love hearing from you.
Cheers!
Comments
Commenting has been turned off.