February 11, 2021 | Bay Area Outings, Grand Cru, News, Sonoma County, Sonoma Valley, Taste with Us, Windsor | Murray Family
Safely Taste Flambeaux Wine at Grand Cru!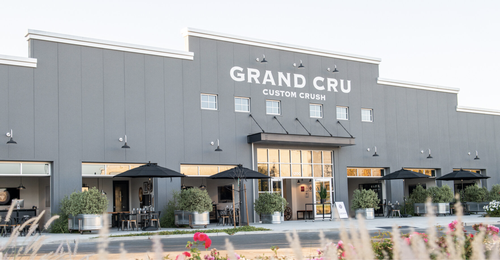 Flambeaux's wines are made at Grand Cru Custom Crush, a state-of-the-art shared winery space in the Sonoma County town of Windsor. In addition to the pristine production space, Grand Cru features private hospitality suites (both indoors and out) that are safe, socially-distant and fun.
Grand Cru has been exceptional at making consumers feel safe and welcome. Currently, the production area where the wines are made, as well as the indoor tasting room floor, is completely closed to guests to remain consistent with COVID-19 guidelines.
Thankfully, at Grand Cru there are several, widely-spaced, private outdoor winetasting areas, each separated by pleasing greenery and partially covered to protect from both cool and warm weather. Ample hand sanitizer, as well as complimentary masks, are available for guests. Your host is the only one who steps into the indoor tasting salon space, which has a roll-up door that opens to the outside.
Often, a member of the Murray family (usually Art Murray) will host your Flambeaux tasting at Grand Cru. The family truly enjoys pouring for and connecting with guests.
To make a reservation to taste Flambeaux at Grand Cru click here.
Comments
Commenting has been turned off.