June 9, 2020 | Murray Family
Madrona Manor's Michelin-Star Executive Chef Jesse Mallgren joined Flambeaux Instagram Live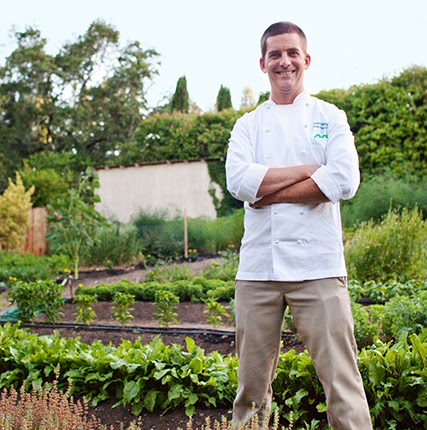 Madrona Manor's Michelin-Star Executive Chef Jesse Mallgren joined Flambeaux Instagram Live
One of the more famous neighbors in our Healdsburg, California neighborhood is Madrona Manor, which is literally just down the way from the Flambeaux Wine Estate. Madrona Manor is world-class luxury inn with an on-site restaurant. The mansion, built in the late 1800s, is on the National Register of Historic Places, and at the helm of the restaurant is Michelin-Star Executive Chef Jesse Mallgren.
Raised in Sonoma County, Chef Mallgren bases his cuisine on a classic French foundation of sauces and stock punctuated by global influences. He has been equally inspired by the organic Madrona Manor estate garden, and uses seasonal ingredients primarily from Sonoma County and California in the restaurant where he has worked since 1999.
Chef joined Art Murray on Instagram Live recently, and prepared one of his favorite dishes, a play off of both Coq Au Vin (typically made from rooster) and Confit (usually made with duck), using young chicken thighs and legs. Using an easy at-home sous vide method of cooking he allowed the chicken to cook for a longer period of time at low temperature, at around 160 degrees Fahrenheit for about four hours in a vacuum-sealed bag.
To keep the kitchen cool during these warmer months, Chef Mallgren suggests the sous vide method and then demonstrated on Instagram Live the pan searing of the chicken which resulted in a tender and flavorful dish, with a caramelized, crispy outer texture. "Slow, long process, more of a time investment," Chef Mallgren said as he finished the super tender chicken off in a hot nonstick pan to crisp the skin. The wine paired with the "Coq au Vin Confit" was the 2016 Flambeaux Redwood Hill Cabernet Sauvignon.
Not that anyone would have any Flambeaux wine left in the bottle, but an at-home tip from Chef Mallgren is to freeze cubes of leftover wines in ice cube trays for later use in cooking.
Ready for more food and wine tips from our guests? Tune into Flambeaux Wine Live Tastings, Every Other Thursday, 5:00 PM PST ~ VIEW EVENT SCHEDULE ►
Comments
Commenting has been turned off.