February 4, 2018 | 2017, Rosé, Sonoma County | Murray Family
Introducing the New 2017 Flambeaux Sonoma County Flambeaux Rosé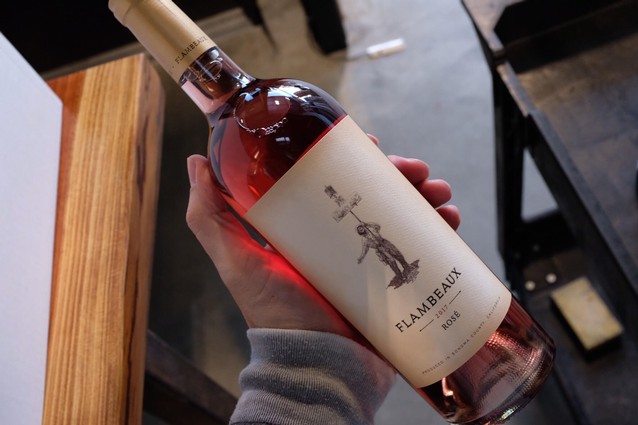 Light and bright with a nice roundness to give it a little weight, the 2017 Flambeaux Rosé is crafted from a blend of Cabernet Sauvignon and Zinfandel, each sourced from spectacular Sonoma County hillside vineyards. Refreshing tastes of strawberries and lemon zest form around a decadent Bing cherry core.
Flambeaux Rosé is sourced from the Flambeaux Estate in the steep, iron-rich hills of Dry Creek Valley and Toby Lane Vineyard, high in the hills above Alexander Valley. "The Martins have been growing grapes on [Toby Lane] ranch for years," said Ryan Prichard, Flambeaux Winemaker, "We've admired it from afar and are excited to finally have an opportunity to work with this great vineyard site!" The thinner soils and cooler evening temperatures of Sonoma County's hillside vineyards allow the vines to grow smaller berries with thicker skins, leading to notably complex and concentrated wines.
Taking the luscious and fruit-forward profile from Zinfandel and adding in the more tannic and structured components from Cabernet Sauvignon builds the Flambeaux Sonoma County Rosé into a classic and fun styling. This combination is what Prichard loves about rosé. "It doesn't have any pretense but is still a very serious wine," he said. "Lively acidity, beautiful strawberry fruit notes, and a bit of back-end structure to balance with light fare ensures it will be a welcome addition to your table."
Speaking of food, try Flambeaux Sonoma County Rosé with ceviche, French fries, or fish tacos. Most importantly, enjoy with sun: in actuality or even just in your mind's eye for a vicarious, vibrant taste of what helped grow such a delicious wine!
Exclusively Available to Flambeaux Club Members. Quantities Limited > JOIN CLUB
Comments
Commenting has been turned off.