June 5, 2020 | Flambeaux Live Tastings, Mardi Gras, New Orleans, Sonoma County, Taste with Us, Virtual Tastings | Murray Family
International Star Horacio Pancheri to taste wine virtually via free Instagram Live with Flambeaux Wine – Thursday, June 11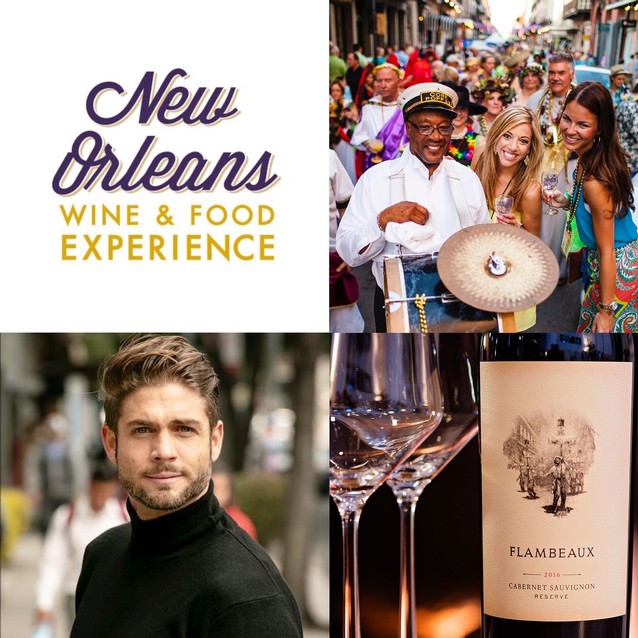 (Sonoma County – CALIF.) – Flambeaux Wine, located in Sonoma's Dry Creek Valley near Healdsburg, California, will again go live on Instagram @FlambeauxWine on Thursday, June 11 beginning at 5:00 p.m. PDT / 8:00 p.m. EDT featuring special guest Argentinean model and actor Horacio Pancheri @HoracioPancheri, a Los Angeles-based performing artist and wine lover best known for his roles in several Mexican television series.
The live event will begin in conversation with Aimee Brown of the New Orleans Wine and Food Experience @NOWFE on Thursday, June 11 at 5:00 p.m. PDT / 8:00 p.m. EDT, followed by a live talk with Horacio Pancheri at about 5:20 p.m. PDT / 8:20 p.m. EDT while tasting the Flambeaux 2014 Sonoma Valley Cabernet Sauvignon a rare library wine, and the Flambeaux 2016 Dry Creek Valley Estate Reserve Cabernet Sauvignon, a wine club exclusive. While chatting with Aimee Brown of NOWFE, the Flambeaux 2017 Sonoma Coast Chardonnay and Flambeaux 2017 Dry Creek Valley Zinfandel will also be tasted.
The New Orleans Wine and Food Experience was postponed due to COVID-19, and has been rescheduled for November. The weekend event features more than 1,000 wines from around the world, dozens of exceptional chefs and restaurants, and special tasting events from wineries.
Founded by the Murray family, originally from New Orleans, Flambeaux makes hand-crafted, limited-production wines that capture the essence of the Flambeaux Dry Creek Valley Estate Vineyard, as well as other world-class Sonoma County vineyards. The Flambeaux are the dancing torchbearers of New Orleans Carnival during Mardi Gras, representing tradition, light, dance and joy.
Art and Nicole Murray, co-founded Flambeaux in Healdsburg, California along with his parents Steve and Pattie Murray, and daughters Alys, Elizabeth, Nia and Lila Murray. At Flambeaux, Winemaker Ryan Prichard (who makes wine at Three Sticks, and has also worked at Williams Selyem, Copain Custom Crush and Medlock Ames) employs the Murray family's philosophy of allowing the grapes to evolve and naturally grow into what they become. With this minimalist approach, the fruit ends up as the best of itself and results in intriguing and exciting wines.
For more information, to check out the Flambeaux Wine Instagram Live schedule, to set up a private virtual tasting or to order wines for this or any of the upcoming online tastings, visit FlambeauxWine.com, call (707) 637-9019 or send an email to info@flambeauxwine.com.
Comments
Commenting has been turned off.