September 10, 2020 | Awards, Cabernet Sauvignon, Chardonnay, Club Member, Flambeaux Wine Club, News, Reviews, Zinfandel | Murray Family
Harvest Party 2020: Celebrating Simple Pleasures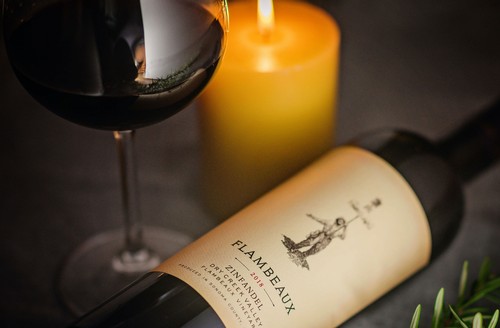 Dear Friends,
I write during admittedly difficult times. The threat of wildfires has subsided here for the time being in our tiny corner of wine country, and our home, vineyard, and most importantly, people are all safe and unscathed. Life continues as harvest is upon us, and we'll be posting pictures and video on our social media accounts so you can follow along as the grapes are picked, sorted, and processed. If you prefer to see us in person, note that you can now visit us at the vineyard, winery—Grand Cru Custom Crush in Windsor—and our new tasting room partner, Region in Sebastopol.
While these times are certainly challenging, there is something to be said for exploring and enjoying pleasures close to home. Small comforts like a good bottle of wine, take-out from a local restaurant, fresh produce from the farmer's market, or a cup of tea on a cool evening can make an otherwise dreary day special. If nothing else, it certainly feels good to support neighbors, friends, and family businesses. We are proud to play a small role in providing these pleasures.
With this shipment, we are offering wines that we think you will really enjoy during the upcoming holiday season. Our first recommendation is the 2016 Dry Creek Valley Cabernet Sauvignon, which is coming along beautifully, as its recent scores and awards reflect. Robert Parker's Wine Advocate gave it 92 points, and it garnered 91 points and Gold from Sunset Magazine and Gold from the TEXSOM International Wine Awards. It is beginning to show a little maturity as the oak flavors of toast and mocha are integrating with its dark fruit impressions.
We have also recommended our 2017 Dry Creek Valley Zinfandel, another wine from our estate vineyard. It too has been well received, having been given 92 points from both Robert Parker's Wine Advocate and Wine Enthusiast, and Gold from the New Orleans International Wine Competition. But, the even bigger news is this wine was just named one of the "21 Amazing Zinfandels to Buy Right Now" in Food & Wine Magazine! Its youthful fruit is still prominent, showing vibrant blackberry and black cherry notes with vanilla and black tea nuances on the finish.
For our Founders Club members, we are recommending our 2017 Sonoma Coast Chardonnay, which keeps getting better and better. It garnered 96 points, Double Gold, and Best of Class at the Sunset Magazine Wine Competition, 92 points from Robert Parker's Wine Advocate, and 90 from Wine Enthusiast. Creamy in texture, it has luscious notes of Golden apple, pear, and apricot in the aroma and flavors, finishing with hints of toast and vanilla on the finish.
Our new members will be pleased to find out that we always add a little lagniappe to our club shipments. For that morning or afternoon cup of tea, we have included a bag of "Wine & Roses" blend and a tea brewing ball from the Russian River Tea Company here in Healdsburg. The blend is black tea with natural pear, hints of berry and grape, and hand-picked rose petals. We trust it will provide a little warmth on the cold days ahead. If nothing else, we hope it warms your heart to know a wonderful local business has been supported.
Please take a moment to raise a glass of wine (or cup of tea) with us to better days ahead.
Stay safe, stay well, and stay connected! Cheers,
Art Murray
… on behalf of the Murray Family
Comments
Commenting has been turned off.