September 23, 2019 | Awards, Cabernet Sauvignon, Chardonnay, Club Member, Flambeaux Wine Club, Sonoma County, Zinfandel | Murray Family
Flambeaux Wine Features Double Gold Medal Winners in Fall Festivities Shipment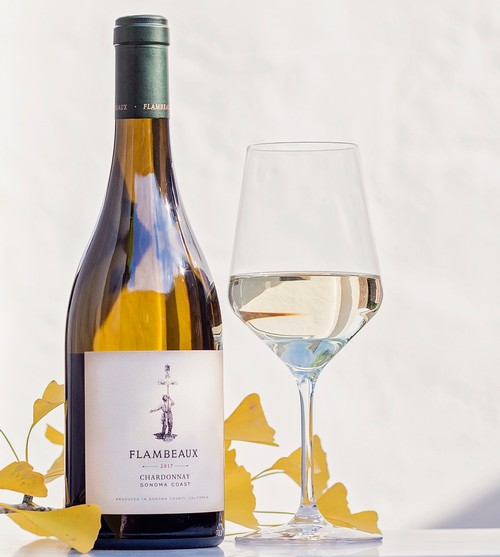 The fall equinox has arrived. This time of year is always magical here in wine country, with harvest energizing everyone and the aroma of fermenting wine filling the air. The fall season certainly makes us appreciate our home here in Sonoma County.
We also have some wonderful news to report! Our video - "From the Bayou to the Bay" - took second place in Wine Spectator's annual video contest. Thank you to everyone who cast votes for our journey from New Orleans to Sonoma!
Our wine suggestions for your Fall Festivities Club Shipment reflect this moment in the season: a little of summer, a little of fall, and a look ahead to the holidays.
For late summer, we offer our 2017 Flambeaux Sonoma Coast Chardonnay (Double Gold, Best of Class, and 96 points at the Sunset International Wine Competition). Rich in body, it is drinking beautifully now with a wonderful balance of bright, clean fruit with a hint of warm oak spice. This wine's long, pleasing finish invites more sips.
Fall is well represented by our estate vineyard 2017 Flambeaux Dry Creek Valley Zinfandel (92 points in Wine Enthusiast, and Gold at the Sonoma County Harvest Fair.) The nuances of wild berry, vanilla, and sweet baking spices are perfect for the last grilling of the year, or the first soups and stews of the season. Pairing well with so many different foods, this is a perfect wine for your Thanksgiving feast.
With an eye towards the holidays, we recommend our 2015 Flambeaux Sonoma Valley Cabernet Sauvignon (94 points in Wine Enthusiast, and Double Gold at the Rodeo Uncorked International Wine Competition). Now reserved solely for Founders Club Members (along with our 2015 Dry Creek Valley Cabernet Sauvignon), this wine is revealing its incredible depth and complexity with lively young blackberry fruit, yet also exhibiting notes of maturity with hints of brown sugar, black tea, and mocha. It would make a perfect Christmas gift for your friends and loved ones.
As part of our continuing effort to support other small businesses in our area, included in your shipment is a jar of Beekind Sonoma County Wildflower Honey made in Sebastopol, California. A perfect "all around" honey, it is great in tea, coffee, smoothies, or on waffles or scones. We hope you enjoy it as much as we do!
As always, we hope you stay in touch, be it on Instagram, Facebook, our website, or with a visit to our winery or vineyard.
Cheers,
Art Murray
… on behalf of the Murray Family
Comments
Commenting has been turned off.