November 25, 2019 | Awards, Reviews | Murray Family
Flambeaux Wine – Dry Creek Valley Winery Lauded Regionally and Internationally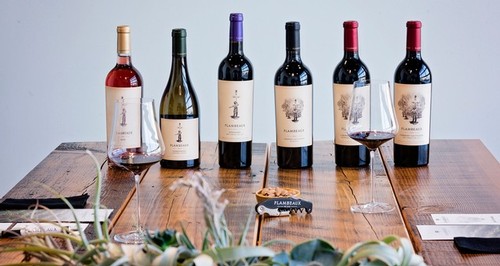 In just a few years, the Murray Family has grown Flambeaux Wine from a few hundred cases to an emerging Sonoma County wine brand that has recently been lauded by international and regional media outlets including Wine Spectator, San Francisco Magazine and Sonoma Magazine.
"Our family is honored that our story and our wines are attracting the attention of media outlets locally, regionally and internationally," said Art Murray, who co-founded the winery in Healdsburg, California with his parents Steve and Pattie Murray, his wife Nicole Murray and daughters Alys, Elizabeth, Nia and Lila Murray.
Sonoma Magazine selected the Flambeaux Wine 2015 Cabernet Sauvignon Dry Creek Valley for the September / October 2019 issue as a "Cabernet for Fall Feasts" and then followed in the December issue highlighting this wine as one of the Top 100 Wines of Sonoma County.
San Francisco Magazine shone a light upon the Flambeaux in a feature about holiday food and wine pairings at the table in the November 2019 issue, recommending the Flambeaux 2015 Dry Creek Valley Zinfandel as one of a select group of ideal wines to complete celebrations, and ideal to pair with cheese, nuts and charcuterie.
Flambeaux also gained wide exposure for their winery, their wines, Dry Creek Valley and Sonoma County as one of the top three winners in the international Wine Spectator Video Contest reaching wine audiences worldwide with the two-minute video entitled "From the Bayou to the Bay" which Wine Spectator magazine cited as a video that takes viewers on a symbolic trip from the historic streets of New Orleans to a family-owned winery in California where friends and family take part in the winemaking process.
Flambeaux prides itself on making hand-crafted, limited-production wines that capture the essence of the Flambeaux Dry Creek Valley Estate Vineyard, as well as other world-class Sonoma County vineyards. The Flambeaux are the dancing torchbearers of New Orleans Carnival during Mardi Gras, representing tradition, light, dance and joy.
At Flambeaux, Winemaker Ryan Prichard (who makes wine at Three Sticks, and has also worked at Williams Selyem, Copain Custom Crush and Medlock Ames) employs the Murray family's philosophy of allowing the grapes to evolve and naturally grow into what they become. With this minimalist approach, the fruit ends up as the best of itself and results in intriguing and exciting wines. Flambeaux currently produces a Dry Creek Valley Cabernet Sauvignon, Sonoma Valley Cabernet Sauvignon, Dry Creek Valley Zinfandel, Sonoma Coast Chardonnay and Sonoma County Rosé.
Flambeaux wine tastings are available by appointment and often hosted by Flambeaux vintner Art Murray. For more information call (707) 637-9019 or send an email to info@flambeauxwine.com.
Comments
Commenting has been turned off.