February 25, 2020 | 2017, 2018, Chardonnay, Club Member, Rosé, Taste with Us, Zinfandel | Murray Family
Flambeaux Wine Club Celebrates Mardi Gras in True New Orleans Style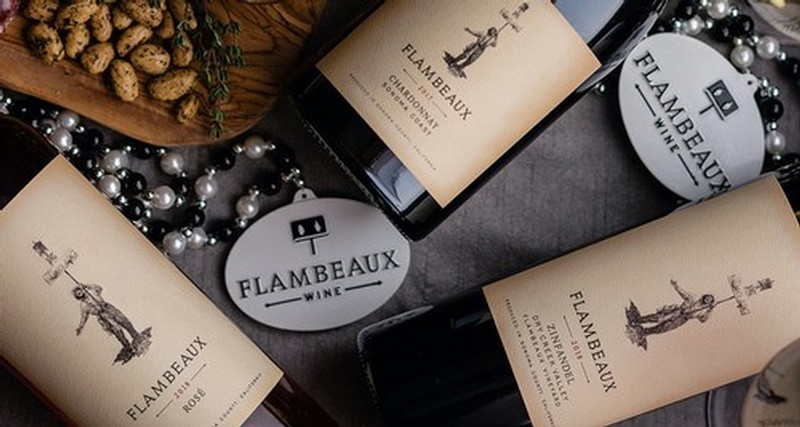 Laissez les bon temps rouler!
For Louisianans, Mardi Gras is the unofficial kick-off to spring. So, chase away those winter blues! Queue up some Satchmo or The Meters, pour some Flambeaux, and ignore the rain and snow outside.
The first wine offered for this shipment - our 2018 Sonoma County Rosé - pairs well with gumbo, crawfish étouffée, or even a muffuletta. A blend of Cabernet Sauvignon and Zinfandel, this wine is refreshing, with dry impressions of wild strawberry and tart cranberry on the palate. With a chill, it is incredibly easy to pair with diverse dishes, from seafood to fowl, and any type of pasta from pesto to carbonara. Only a limited amount is still available.
Our other club choice - the 2017 Dry Creek Valley Zinfandel - has an amazing pairing range, going just as well with gumbo as it does with Thai food or a hamburger. Almost a year after release, it has deepened in flavor, with dark plum complementing the youthful black cherry and blackberry nuances. This wine was a gold medal winner at the 2020 San Francisco Chronicle Wine Competition.
For the Founders, our third selection - the 2017 Sonoma Coast Chardonnay - completes the Mardi Gras trio (with the colors of Mardi Gras represented by the purple, green, and gold capsules). This wine was also a gold medal winner at the San Francisco Chronicle Wine Competition. It is blossoming into a rich, full Chardonnay with Golden apple, pear, Meyer lemon, and butterscotch notes on the palate. It easily pairs with boiled crawfish, cioppino, and other spicy seafood dishes, as well as rich fish like salmon or seared tuna.
We also have big news about Flambeaux's unofficial mascot Stella! She has been featured in Wine Dogs California. This beautiful book will sell for $40.00, and we are offering a "paw print autographed", limited edition copy with Stella on the cover. 10% of the proceeds will be donated to the Humane Society of Sonoma County. You can pre-order your copy online at our website, www.flambeauxwine.com.
Toast Stella's good news with the complimentary wine growler we have included with your shipment. As the temperatures outside rise, we suspect you will be drinking your Rosé and Chardonnay more, and this handy item ensures that the wine inside stays nice and cool.
In the spirit of letting the good times roll, we will be doing a lot of festivals, events, and wine dinners this year. So, mark your calendars. We have a wine dinner at Charley G's in Lafayette on March 17; we then head to New Orleans for the New Orleans Wine and Food Experience (March 18-20) and shoot over to Atlanta for the High Museum Atlanta Wine Auction (March 20-22). Please join us for these and many more 2020 events, all of which can be found on our events page. Be sure to check that page often for new events.
We hope you keep the flame of celebration lit this spring!
Cheers,
The Murray Family
Comments
Commenting has been turned off.