December 1, 2017 | 2014, 2015, 2017, Cabernet Sauvignon, Chardonnay, Club Member, Double Magnum, Dry Creek Valley, Flambeaux Wine Club, News, Rosé, Sonoma County, Sonoma Valley, Zinfandel | Art Murray
Flambeaux Offers an Expanded Portfolio of Wines in 2017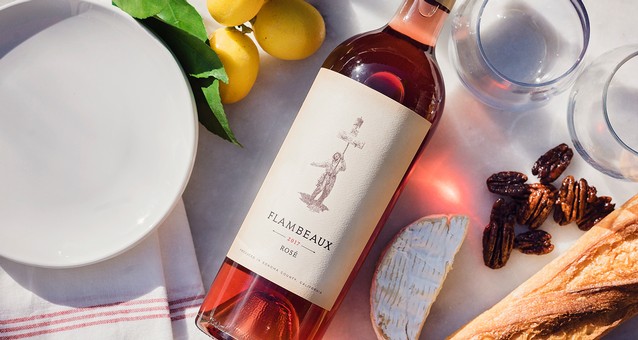 Season's Greetings!
Our vines are all shades of gold, yellow, and burgundy red, and the days are getting shorter and shorter as we start our holiday season. We will spend the next month celebrating the end of the year, families, friends, the holiday spirit, and the new year before us. We hope you join in the celebrations and festivities with your friends and families.
We are excited for the new year, as it opens the next chapter of Flambeaux. The 2017 harvest, though lower in yields compared to last year, is of excellent quality. The 2017 harvest also brings with it a huge announcement. After taking into consideration our first vintage's success and the requests of our customers, we have now expanded our portfolio of wines.
The first new wine you will see is our 2017 Sonoma County Rosé, which will be released in the spring of 2018. As Club Members, you will get exclusive access to this lovely wine; it won't be sold online to the general public. Flambeaux will also be releasing a 2017 Sonoma Coast Chardonnay, a 2017 Dry Creek Valley Zinfandel, and a 2016 Reserve Cabernet Sauvignon. Club Members will get pre-release access to these wines. We also bottled a very limited number of 2015 Dry Creek Valley and Sonoma Valley Cabernet Sauvignon double magnums (3-liter) with hand-etched labels! These double magnums will only be offered to Club Members.
Our 2014 Dry Creek Valley and Sonoma Valley Cabernet Sauvignons continue to garner praise. Following the San Francisco Vintners Market (which took place on the weekend of November 4th), Bill McNabb, the wine editor of the local Piedmont Post here in Northern California, noted: "I thought your 2014 Flambeaux Cabernet Sauvignon Sonoma Valley was one of the ten best wines of the entire tasting … Congratulations on your outstanding achievement." Our stock of these two inaugural wines is getting low (and once each reaches 25 cases remaining, they will be retired to the wine library that will only be accessible to our valued Club Members). Be sure to stock up for your holiday celebrations and gifts! We can also accommodate corporate gifts by calling us at 707.637.9019.
As has become our custom, we have included a little lagniappe for you in this club shipment. It is an item we find very useful during the holiday season, a set of Vino Markers. With these markers you can decorate and personalize your wine glasses for guests at your parties. For red wine, write anywhere on the glass. Just let it dry for 2 to 3 minutes and it will stay on throughout the party. For white wine and cold drinks, write on the base of the wine glass for best results. The ink washes off easily with warm soapy water. These are great fun, and a nice change from glass charms. It is our thank you for being a Club Member and your enthusiasm for our wines!
We wish you safe, joyous, and loving holidays!
Comments
Commenting has been turned off.