March 19, 2020 | Murray Family
Corazón Healdsburg Benefits from Healdsburg Winery's Fire Relief Promise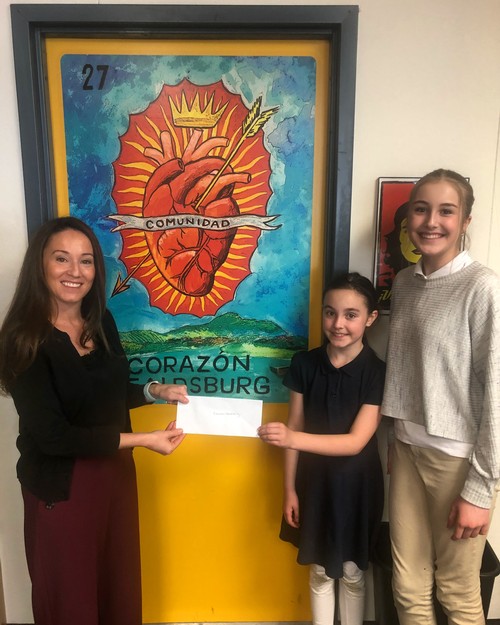 In December of 2019, Flambeaux Winery released its 2016 Flambeaux Redwood Hill Vineyard Cabernet Sauvignon, a single vintage edition, as the vineyard and property from which the wine was made sustained extensive damage one year later in the 2017 Tubbs Fire.
Seeing so many friends and family suffer in the recent wildfires, the owners of Flambeaux decided to donate a percentage of their sales to a local non-profit. Together, all three generations of the family voted and unanimously selected Corazón Healdsburg, because 100% of monies received for their "Unity & Community Fund" are directly distributed to families in need due to the impact of recent fires.
The two youngest members of the family, Nia and Lila Murray, recently presented the first distribution of proceeds to Corazón Healdsburg. Subsequent proceeds will be delivered throughout the year as the wine is sold. The Redwood Hill Vineyard was located high in the in the Mayacamas Mountain Range, in the Fountaingrove region east of Santa Rosa in Sonoma County and west of Calistoga in Napa County.
Flambeaux prides itself on making hand-crafted, limited-production wines that capture the essence of the Flambeaux Dry Creek Valley Estate Vineyard, as well as other world-class Sonoma County vineyards. The Flambeaux are the dancing torchbearers of New Orleans Carnival during Mardi Gras, representing tradition, light, dance and joy.
Art and Nicole Murray, co-founded Flambeaux in Healdsburg, California along with his parents Steve and Pattie Murray, and daughters Alys, Elizabeth, Nia and Lila Murray. At Flambeaux, Winemaker Ryan Prichard (who makes wine at Three Sticks, and has also worked aWilliams Selyem, Copain Custom Crush and Medlock Ames) employs the Murray family's philosophy of allowing the grapes to evolve and naturally grow into what they become. With this minimalist approach, the fruit ends up as the best of itself and results in intriguing and exciting wines. Flambeaux currently produces a Dry Creek Valley Cabernet Sauvignon, Sonoma Valley Cabernet Sauvignon, Dry Creek Valley Zinfandel, Sonoma Coast Chardonnay and Sonoma County Rosé.
The 2016 Flambeaux Redwood Hill Vineyard Cabernet Sauvignon continues to be available online and at Grand Cru Custom Crush. Flambeaux wine tastings are also available by appointment and often hosted by Flambeaux vintner Art Murray.
Comments
Commenting has been turned off.