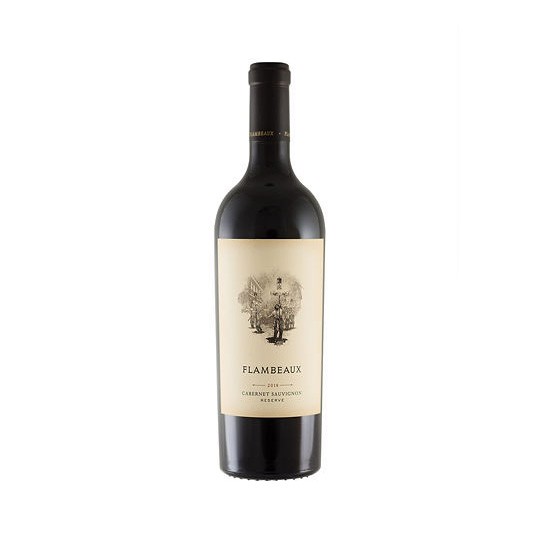 Wine Specs
Varietal
Cabernet Sauvignon
Appellation
Dry Creek Valley
Vineyard Designation
Flambeaux Estate
Titratable Acidity
6.53 g/L
Aging
Aged for 22 months in 100% new French oak barrels
2018 Flambeaux Reserve Cabernet Sauvignon
New Vintage!
Wine Profile
Tasting Notes
The 2018 Flambeaux Reserve Cabernet Sauvignon welcomes you with cassis and toasted cedar box. Dark chocolate-covered cherry calls you further. The wine's vibrancy and pop are balanced with a weightiness on the palate and firm tannins to give the wine the structure to age gracefully.
Vineyard Profile
The Flambeaux Vineyard in Dry Creek Valley is located in the sweet spot for vineyard elevation – about 350 ft above the valley floor. The soils are the Boomer Loam series which is a Metamorphic soil and our particular area has the redder, more iron-rich soils. This soil type is especially good with Cabernet Sauvignon grapevines and leads to great minerality and natural acidity. The rolling hillside provides great drainage and being up the hill from the valley allows the vineyard to stay a bit warmer – perfect for ripening Cabernet Sauvignon. ~ 100% Flambeaux Estate
Production Notes
"This 2018 version of the Reserve Cabernet Sauvignon was a barrel select from the Dry Creek Cabernet Sauvignon. In years past, this selection came from different coopers (barrel makers). This year both barrels were selected from one single cooper (although each barrel had a different toast profile). I thought this barrel gave the wine the perfect blend of integrated and expansive palatte and tannin profile as well as an aromatic profile that enhanced this mountain fruit. In the blend, I also decided to add a touch more Petit Verdot to enhance the tannin profile and add on to the already spectacular aging potential for this wine." -Ryan Prichard
Winemaker Notes
This wine is always a favorite to put together. The top barrels this year came from the Flambeaux Vineyard and again are 100% New French Oak. We selected the barrels from two different coopers and each brings a different component to the blend. First, the Marques barrel from the Fontainbleau forest is made from 3-year air-dried staves to soften the tannins. This barrel is one which lends itself to a creamy palate and adds weight to the wine without excessive bite. The second barrel is a Radoux Evolution which adds a toasty spiciness to this wine. Taste it up against the 2018 Dry Creek Cabernet Sauvignon as they are the same fruit, just different aging regimes and you'll be blown away! ~ Winemaker Ryan Prichard
Food Pairing
Jump in the time machine and enjoy a perfectly cooked beef wellington with this or port wine braised short ribs.
About Flambeaux Wine
Flambeaux are the dancing torchbearers of Carnival night parades. A quintessential symbol of New Orleans Mardi Gras tradition, Flambeaux represent all that we love best about wine—light flickering in a glass, complex flavors dancing across the palate, and a celebration of life.
Wine Specs
Varietal
Cabernet Sauvignon
Appellation
Dry Creek Valley
Vineyard Designation
Flambeaux Estate
Titratable Acidity
6.53 g/L
Aging
Aged for 22 months in 100% new French oak barrels
Related Wines