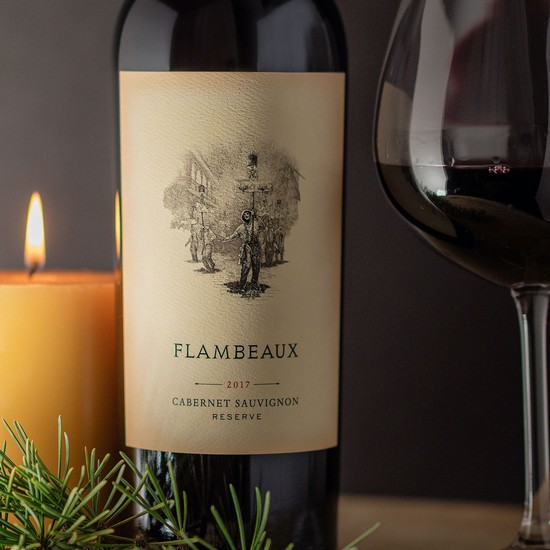 Wine Specs
Varietal
Cabernet Sauvignon
Appellation
Dry Creek Valley
Vineyard Designation
Flambeaux Estate
Harvest Date
October 5, 2017
Titratable Acidity
6.4 g/L
Aging
Aged for 22 months in 100% new French oak barrels
Fermentation
Fermented in small stainless steel tanks with twice daily pumpovers for a period of two weeks
Bottling Date
July 15, 2019
2017 Flambeaux Reserve Cabernet Sauvignon
Holiday Pairing: prime rib dinner
Wine Profile
Tasting Notes
The 2017 Flambeaux Reserve Cabernet Sauvignon welcomes you with cassis and toasted cedar box. Dark chocolate-covered cherry calls you further. The wine's vibrancy and pop are balanced with a weightiness on the palate and firm tannins to give the wine the structure to age gracefully.
Vineyard Profile
The Flambeaux Vineyard in Dry Creek Valley is located in the sweet spot for vineyard elevation – about 350 ft above the valley floor. The soils are the Boomer Loam series which is a Metamorphic soil and our particular area has the redder, more iron-rich soils. This soil type is especially good with Cabernet Sauvignon grapevines and leads to great minerality and natural acidity. The rolling hillside provides great drainage and being up the hill from the valley allows the vineyard to stay a bit warmer – perfect for ripening Cabernet Sauvignon. ~ 100% Flambeaux Estate
Production Notes
2017 was a year that will be forever imprinted into our lives in Sonoma County. The catastrophic fires that hit us in early October impacted everyone in our county, and we are so very thankful for the work that our first-responders and volunteers did to help and support our community at this horrific time. We were fortunate that all of our fruit was already picked prior to the fires commencing. As for the growing season, 2017 was an exciting vintage that threw a lot of curve balls. We ended up having record rainfalls during the 2016/2017 winter season where our rivers flowed heavily and refilled the dams after years of drought conditions. This welcome turn allowed the soils to be thoroughly saturated and gave us a wonderful jumping off point. Temperatures during fruit set were on the cooler side and they occurred more into a "normal" time of year (as opposed to previous years of very early beginning of ripening). At the end of August into early September, we received a handful of 100+ degree days that required some patience and hand-wringing but ultimately we were happy with the decision to hold tight, give the fruit some water and let them recover and continue to ripen on the vine.
Winemaker Notes
This wine is always a favorite to put together. The top barrels this year came from the Flambeaux Vineyard and again are 100% New French Oak. We selected the barrels from two different coopers and each brings a different component to the blend. First, the Marques barrel from the Fontainbleau forest is made from 3-year air-dried staves to soften the tannins. This barrel is one which lends itself to a creamy palate and adds weight to the wine without excessive bite. The second barrel is a Radoux Evolution which adds a toasty spiciness to this wine. Taste it up against the 2017 Dry Creek Cabernet Sauvignon as they are the same fruit, just different aging regimes and you'll be blown away! ~ Winemaker Ryan Prichard
Food Pairing
Sirloin tip kebabs with tzatziki and pilaf.
About Flambeaux Wine
Flambeaux are the dancing torchbearers of Carnival night parades. A quintessential symbol of New Orleans Mardi Gras tradition, Flambeaux represent all that we love best about wine—light flickering in a glass, complex flavors dancing across the palate, and a celebration of life.
Wine Specs
Varietal
Cabernet Sauvignon
Appellation
Dry Creek Valley
Vineyard Designation
Flambeaux Estate
Harvest Date
October 5, 2017
Titratable Acidity
6.4 g/L
Aging
Aged for 22 months in 100% new French oak barrels
Fermentation
Fermented in small stainless steel tanks with twice daily pumpovers for a period of two weeks
Bottling Date
July 15, 2019
Related Wines