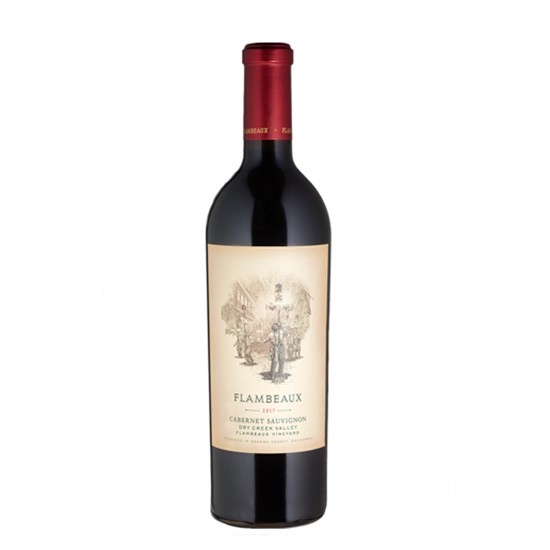 Wine Specs
Varietal
Cabernet Sauvignon
Appellation
Dry Creek Valley
Harvest Date
October 5, 2017
Titratable Acidity
6.1 g/L
Aging
Aged for 22 months in a mix of 50% new and aged oak, comprised of 60% French and 40% American oak
Fermentation
Fermented in small stainless steel tanks with twice daily pumpovers for a period of two weeks
Bottling Date
July 15, 2019
2017 Flambeaux Dry Creek Valley Cabernet Sauvignon
Holiday Pairing: herb-crusted rack of lamb or braised pork shoulder
Wine Profile
Tasting Notes
On first sniff there is beautiful baking spice and red currant with a dusting of bakers chocolate. Bright black cherries and cinnamon are present on the palate and the fine grain tannins melt effortlessly into a toasted vanilla bean note. A wonderful freshness and spice in this wine should let it evolve in bottle for years to come. ~ 95% Cabernet Sauvignon, 3% Malbec, 2% Petit Verdot
Vineyard Profile
The Flambeaux Vineyard in Dry Creek Valley is located in the sweet spot for vineyard elevation – about 350 ft above the valley floor. The soils are the Boomer Loam series which is a Metamorphic soil and our particular area has the redder, more iron rich soils. This soil type is especially good with Cabernet Sauvignon grapevines and leads to great minerality and natural acidity. The rolling hillside provides great drainage and being up the hill from the valley allows the vineyard to stay a bit warmer – perfect for ripening Cabernet Sauvignon. ~ 99% Dry Creek Valley, 1% Fountaingrove District
Production Notes
2017 was a year that will be forever imprinted into our lives in Sonoma County. The catastrophic fires that hit us in early October impacted everyone in our county, and we are so very thankful for the work that our first-responders and volunteers did to help and support our community at this horrific time. We were fortunate that all of our fruit was already picked prior to the fires commencing. As for the growing season, 2017 was an exciting vintage that threw a lot of curve balls. We ended up having record rainfalls during the 2016/2017 winter season where our rivers flowed heavily and refilled the dams after years of drought conditions. This welcome turn allowed the soils to be thoroughly saturated and gave us a wonderful jumping off point. Temperatures during fruit set were on the cooler side and they occurred more into a "normal" time of year (as opposed to previous years of very early beginning of ripening). At the end of August into early September, we received a handful of 100+ degree days that required some patience and hand-wringing but ultimately we were happy with the decision to hold tight, give the fruit some water and let them recover and continue to ripen on the vine.
Winemaker Notes
One of the things I love about this Dry Creek Valley vineyard is that it retains its acidity throughout ripening which gives the wine its mouthwatering character. This livens the palate and is what allow it to pair so well with food. This profile isn't some trick that is hatched up in the winery - it is what this vineyard GIVES us. High up in the hills of Dry Creek this fruit struggles to ripen, and when it does get there, it barely does. So we get to capture all of this hang time and get that brightness naturally from this site, from its little microclimate. This wine is truly built in the vineyard. ~ Winemaker Ryan Prichard
Food Pairing
Classically paired with herb-crusted rack of lamb or other grilled meats, this wine also excels in its diversity of pairing. The brightness that shows through on the wine will cut through and balance out the fat in a number of dishes.
About Flambeaux Wine
Flambeaux are the dancing torchbearers of Carnival night parades. A quintessential symbol of New Orleans Mardi Gras tradition, Flambeaux represent all that we love best about wine—light flickering in a glass, complex flavors dancing across the palate, and a celebration of life.
Wine Specs
Varietal
Cabernet Sauvignon
Appellation
Dry Creek Valley
Harvest Date
October 5, 2017
Titratable Acidity
6.1 g/L
Aging
Aged for 22 months in a mix of 50% new and aged oak, comprised of 60% French and 40% American oak
Fermentation
Fermented in small stainless steel tanks with twice daily pumpovers for a period of two weeks
Bottling Date
July 15, 2019
Related Wines