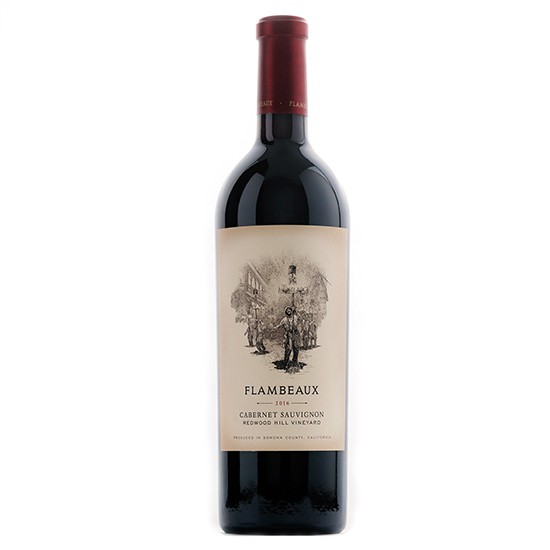 Wine Specs
Varietal
Cabernet Sauvignon
Appellation
Redwood Hill Vineyard
Vineyard Designation
Sonoma Valley
Harvest Date
September 28, 2016
Titratable Acidity
6.5 g/L
Aging
Aged for 22 months in 100% French oak (55% new oak)
Fermentation
Fermented in small stainless steel tanks and oak barrels with their heads removed
Bottling Date
August 9, 2018
2016 Flambeaux Redwood Hill Cabernet Sauvignon
93 POINTS, Robert Parker Wine Advocate
Wine Profile
Tasting Notes
98% Cabernet Sauvignon, 2% Petit Verdot ~ The 2016 Flambeaux Redwood Hill Vineyard Cabernet Sauvignon jumps out of the glass with aromas of violets, black cherry, and tobacco leaf. The juxtaposition of a certain inkiness and dark chocolate flavor linger beside brighter notes of cherry, enlivening the palate for a mouthwatering finish.
Vineyard Profile
100% Fountaingrove District ~ High in the Mayacamas mountains east of Santa Rosa in Sonoma County and west of Calistoga in Napa County, the Redwood Hill Vineyard produces Cabernet Sauvignon with tiny berries that provide intense, dark fruit. The vineyard is situated above the fog line where the grapes enjoy plenty of daylight, yet—with such a high elevation—cooler temperatures than those on the valley floor: ideal conditions for creating a balanced wine.
Winemaker Notes
Having worked with the Redwood Hill vineyard for many years, I was excited to again be able to be able to get some fruit from this magical spot. The vineyard had a number of different Bordeaux varieties planted (we were able to secure Cabernet Sauvignon from their Home block), but unfortunately, our dear friends at Redwood Hill Vineyard were among those affected by the fires in 2017, while this wine was aging in barrel. Fortunately, we have a memory of that special place, as it was before the fires, captured in this bottle. ~ Winemaker Ryan Prichard
About Flambeaux Wine
Flambeaux Wine is inspired by the torchbearers of New Orleans Mardi Gras night parades, whose open flame torches cast a magical flickering light over the festivities. However, fire can be as destructive as it is illuminating as it was on the night of October 8, 2017. Many of our friends and neighbors lost their homes and worldly possessions in the Northern California wildfires. Our dear friends at Redwood Hill Vineyard, where we picked grapes for this wine, were among those affected. Fortunately, we have a memory of that special place as it was before the fires, captured in this bottle. In our home of New Orleans, loss is always coupled with a celebration of life. Jazz funerals start with a slow, somber march, but then burst into an exuberant dance to celebrate the wonderful life that was lost. We hope you will drink this bottle in that same spirit. Raise a glass to our friends who lost so much; then make a joyous toast to the indomitable human spirit striving to rebuild our beloved wine country.
Wine Specs
Varietal
Cabernet Sauvignon
Appellation
Redwood Hill Vineyard
Vineyard Designation
Sonoma Valley
Harvest Date
September 28, 2016
Titratable Acidity
6.5 g/L
Aging
Aged for 22 months in 100% French oak (55% new oak)
Fermentation
Fermented in small stainless steel tanks and oak barrels with their heads removed
Bottling Date
August 9, 2018
Related Wines