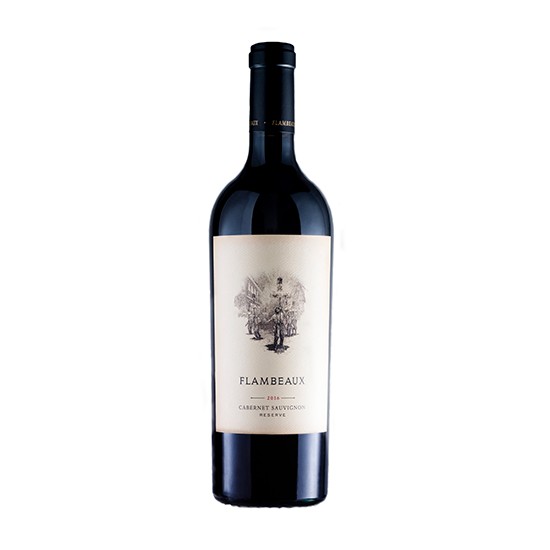 Wine Specs
Varietal
Cabernet Sauvignon
Appellation
Sonoma County
Harvest Date
October 5, 2016
Titratable Acidity
5.88 g/L
Aging
Aged for 22 months in 100% new French oak barrels
Fermentation
Fermented in small stainless steel tanks
Bottling Date
August 9, 2018
2016 Cabernet Sauvignon Reserve
- 6 bottle lifetime limit per member -
WINE CLUB EXCLUSIVE
6 Bottle Lifetime Allocation per Member
Crafted from 100% Flambeaux Dry Creek Valley estate-grown fruit, the 2016 Flambeaux Reserve Cabernet Sauvignon was aged in 100% new French oak for a bold, spicy wine that will lay down for years. Blackcurrant, dried herbs, and a hint of minerality pour over the firm yet textured palate. Only 50 cases were produced.
Wine Profile
Tasting Notes
The 2016 Flambeaux Reserve Cabernet Sauvignon opens with bold, spicy notes of cedarbox and grilled blackberry. Blackcurrant, dried herbs, and a hint of minerality pour over the palate while the firm yet textured tannins set this wine up to lay down for years. ~ 99% Cabernet Sauvignon, 1% Petit Verdot
Vineyard Profile
The Flambeaux Vineyard in Dry Creek Valley is located in the sweet spot for vineyard elevation – about 350 ft above the valley floor. The soils are the Boomer Loam series which is a Metamorphic soil and our particular area has the redder, more iron-rich soils. This soil type is especially good with Cabernet Sauvignon grapevines and leads to great minerality and natural acidity. The rolling hillside provides great drainage and being up the hill from the valley allows the vineyard to stay a bit warmer – perfect for ripening Cabernet Sauvignon. ~ 99% Dry Creek Valley, 1% Fountaingrove District
Winemaker Notes
Enjoy this 100% new and 100% French oak take on our home vineyard. After months of aging, I chose two of our favorite barrels highlighting the site and the vintage of the 2016 Flambeaux Estate Dry Creek Cabernet Sauvignon. The oak adds structure and power to the wine but these two barrels have also been selected for their immediate integration ability to showcase the wonderful spice characteristics that we find in the Flambeaux Vineyard. ~ Winemaker Ryan Prichard
About Flambeaux Wine
Flambeaux are the dancing torchbearers of Carnival night parades. A quintessential symbol of New Orleans Mardi Gras tradition, Flambeaux represent all that we love best about wine—light flickering in a glass, complex flavors dancing across the palate, and a celebration of life.
Wine Specs
Varietal
Cabernet Sauvignon
Appellation
Sonoma County
Harvest Date
October 5, 2016
Titratable Acidity
5.88 g/L
Aging
Aged for 22 months in 100% new French oak barrels
Fermentation
Fermented in small stainless steel tanks
Bottling Date
August 9, 2018
Related Wines