SF Vintners Estates Spring Tasting
Date: Sat, May 30, 2020 - Sun, May 31, 2020
Time: 11:00 AM to 2:00 PM
Venue: Golden Gate Club, Presidio, 135 Fisher Loop San Francisco, CA 94129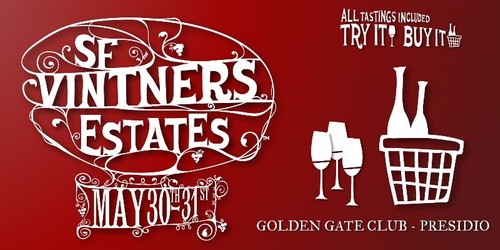 "Spring New Releases 2020"
Join Flambeaux Wine at the one-of-a-kind San Francisco Vintners Estates "Try and Buy" wine tasting. Sample and purchase wines on the spot from up to 100 vintners from Napa Valley, Sonoma County, Paso Robles, San Luis Obispo, Santa Barbara, Russian River Valley, Santa Cruz Mountains, and around the world. Wineries will be pouring their favorite wines including new releases, special collections, and hard-to-find vintages.
VIP Tasting
Saturday, May 30, 2020, 2:00-3:00pm
True wine connoisseurs, with a higher level of appreciation for fine wines, will enjoy the opportunity to sample rare and highly valued wines.
General Admission/ Reserve
Saturday, May 30, 2020, 3:00-6:00pm
Trade & Media Tasting
Sunday, May 31, 2020, 12:00-1:00pm
General Admission/ Reserve
Sunday, May 31, 2020, 1:00-4:00pm
---