Flambeaux Wine Week at Region
| | |
| --- | --- |
| Date: | Mon, Apr 12, 2021 - Sun, Apr 18, 2021 |
| Venue: | The Barlow, 6770 McKinley St, Sebastopol, CA 95472, USA |
| Phone: | (707) 824-5600 |
| Email: | Elizabeth@flambeauxwine.com |
---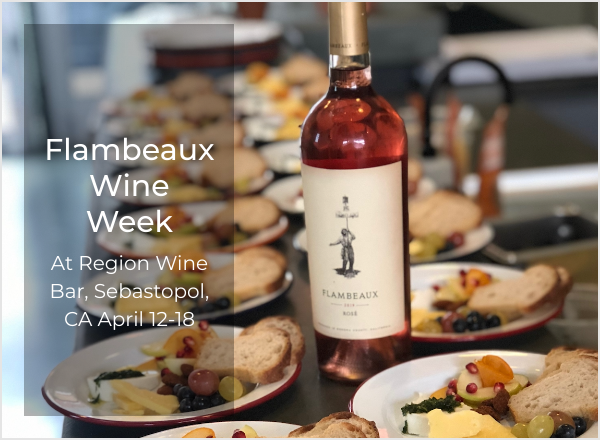 Join Flambeaux Wine at Region, a cutting-edge wine-bar located at The Barlow, a Bay Area outdoor market in Sebastopol, California featuring local food, wine, beer, spirits and crafts made onsite by Sonoma County artisans.
Featured Daily Flight ~ Available Apr 12-18
Enjoy five current release wines from the Flambeaux Wine portfolio:
2020 Flambeaux Sonoma County Rosé
2017 Flambeaux Sonoma Coast Chardonnay
2018 Flambeaux Dry Creek Valley Zinfandel
2017 Flambeaux Alexander Valley Cabernet Sauvignon
2017 Flambeaux Dry Creek Valley Cabernet Sauvignon
$25 for Weekly Flight
MORE SPECIAL EVENTS THIS WEEK
Kickoff Night
Monday, April 12th from 4–7pm
Stop by and enjoy the weekly flight including the 2020 Flambeaux Rosé, being shared with the public for the first time ever!
No reservations needed.
Family Night, featuring Stella the Wine Dog
Tuesday, April 13th from 4–7pm
Gather on the outdoor patio for a relaxing evening of live music and wine. Bring your friends and loved ones (yes, even the littles are welcome!) to enjoy a few songs performed by the Murray kids and to meet and take pics with Stella, Flambeaux's Maremma Sheepdog who was featured in Wine Dogs California.
No reservations needed.
Winemaker Happy Hour
Wednesday, April 14th from 4–7pm
Join Flambeaux Wine's "Winemaker of the Year" Ryan Prichard and the Murray family as they pour the weekly flight tableside. Bringing a bit of New Orleans heritage, the wines will be paired with homemade Gumbo.
$45/ person – Reservations limited to 40 guests.
Reserve Night
Thursday, April 15th from 5–8pm
Experience the 2017 Flambeaux Reserve Cabernet Sauvignon alongside Flambeaux's weekly flight. Local music legend, Steve Pile, will play live 6-8pm and small bites pairing will be available while supplies last from Big Bottom Market, home of biscuits on Oprah's Favorite Things 2016. At only 50 cases per vintage, the Flambeaux Reserve is an extra-special 'event' —typically reserved just for Flambeaux Wine Club members.
$35 for Reserve Flight; $15 for Food Pairing - Reservations recommended.
Wine Club Perk Alert!
Flambeaux Wine Club Members and Friends of Flambeaux are invited to RSVP to reserve a complimentary food pairing. Please contact elizabeth@flambeauxwine.com.
Join the Parade Days
Friday, Saturday, and Sunday, 1-8 pm
Enjoy Flambeaux Wine's weekly flight all weekend long!
No reservations needed.